A MONUMENTAL EXPERIENCE:
Construction of the San Jacinto Memorial Monument
On exhibit through February 19, 2023.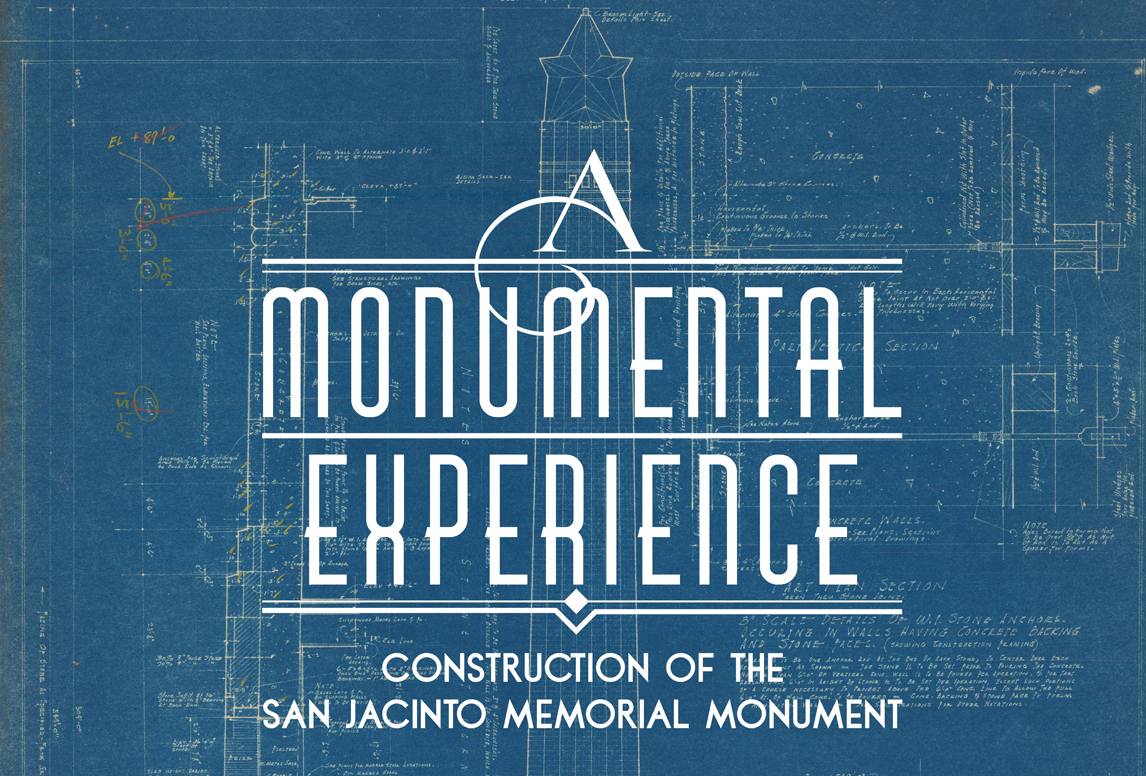 A Monumental Experience: Construction of the San Jacinto Memorial Monument looks at the people who designed, planned, and built the iconic building that commemorates the Battle of San Jacinto that won the independence of Texas.
Construction of the San Jacinto Monument, a Texas Centennial project, began in 1936 as a Federal relief project that put hundreds of people to work who had been made jobless by the Great Depression. Presented within the building that is its focal point, the exhibit includes construction photos, design drawings, blueprints, models, copies of archival documents, film clips, and artifacts. The construction, the workers, the funding, the artistic design, and the economic impact of the Great Depression and the New Deal are presented, in a space that runs the full length of the massive base of the building.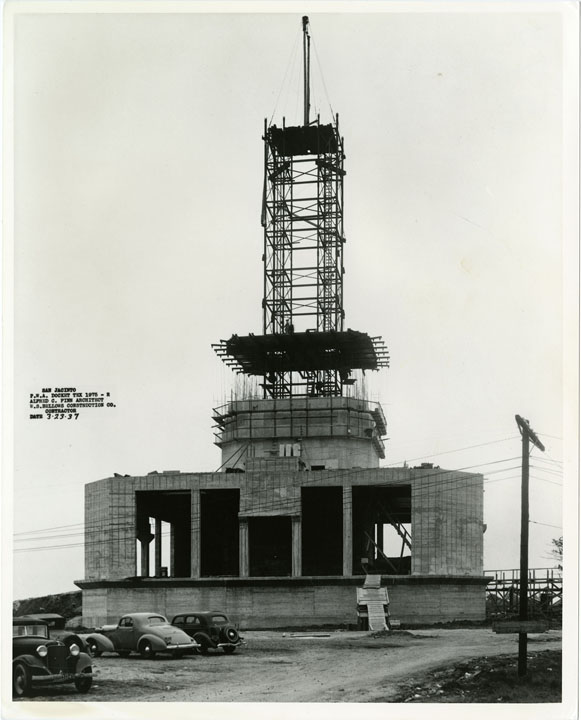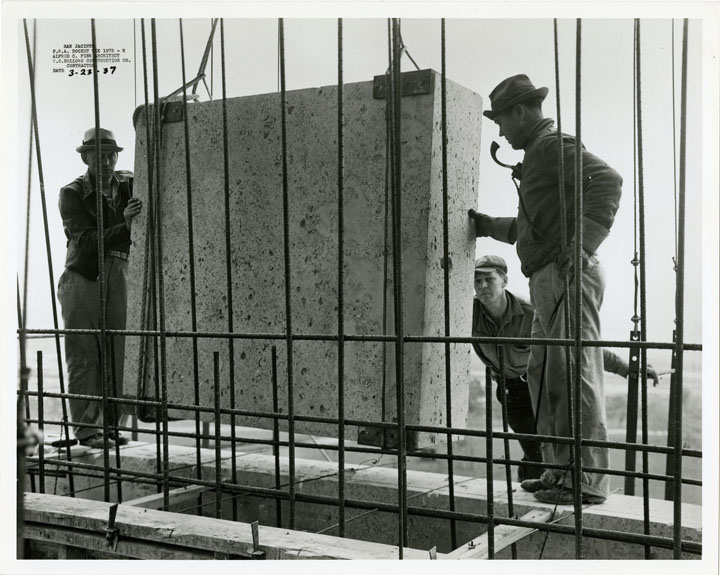 Left to right: twin steel towers to support scaffolding; placing stone on Monument wall.
Above: Detail of blueprint, San Jacinto, A Memorial for San Jacinto Battleground, Front Elevation 1/16" Scale, 1936, MSS0019 Key 384, Alfred C. Finn Papers, courtesy Houston Public Library, Houston Metropolitan Research Center.
W. S. Bellows Construction Corporation, who won the bid for the Public Works Administration (PWA) project to build the actual tower, provided a wealth of photographs taken during the Memorial's construction. The terraces, reflection pool, a water well, roads, and a bulkhead along the Ship Channel were all Works Progress Administration projects; the Texas WPA donated construction photos to the San Jacinto Museum of History in 1949 that are part of the exhibit. Other photographs came from archives and libraries, including the Dolph Briscoe Center for American History at the University of Texas, Harris County Archives, the Cleveland Public Library, the Library of Congress Prints and Photographs Division, and the National Archives. A number of photographs, documents, and blueprints from the Houston Public Library's Houston Metropolitan Research Center which holds the papers of Alfred C. Finn, the Monument's architect, enhances San Jacinto Museum of History's holdings in the exhibit
Enjoy this exhibit at a discount as part of the Combo Ticket; museum members may visit at no charge.
Grant Funding for this special exhibit has been received from Dow.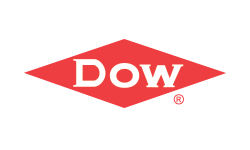 Additional funding has been provided to San Jacinto Museum of History by Humanities Texas and National Endowment for the Humanities (NEH) as part of the CARES Act.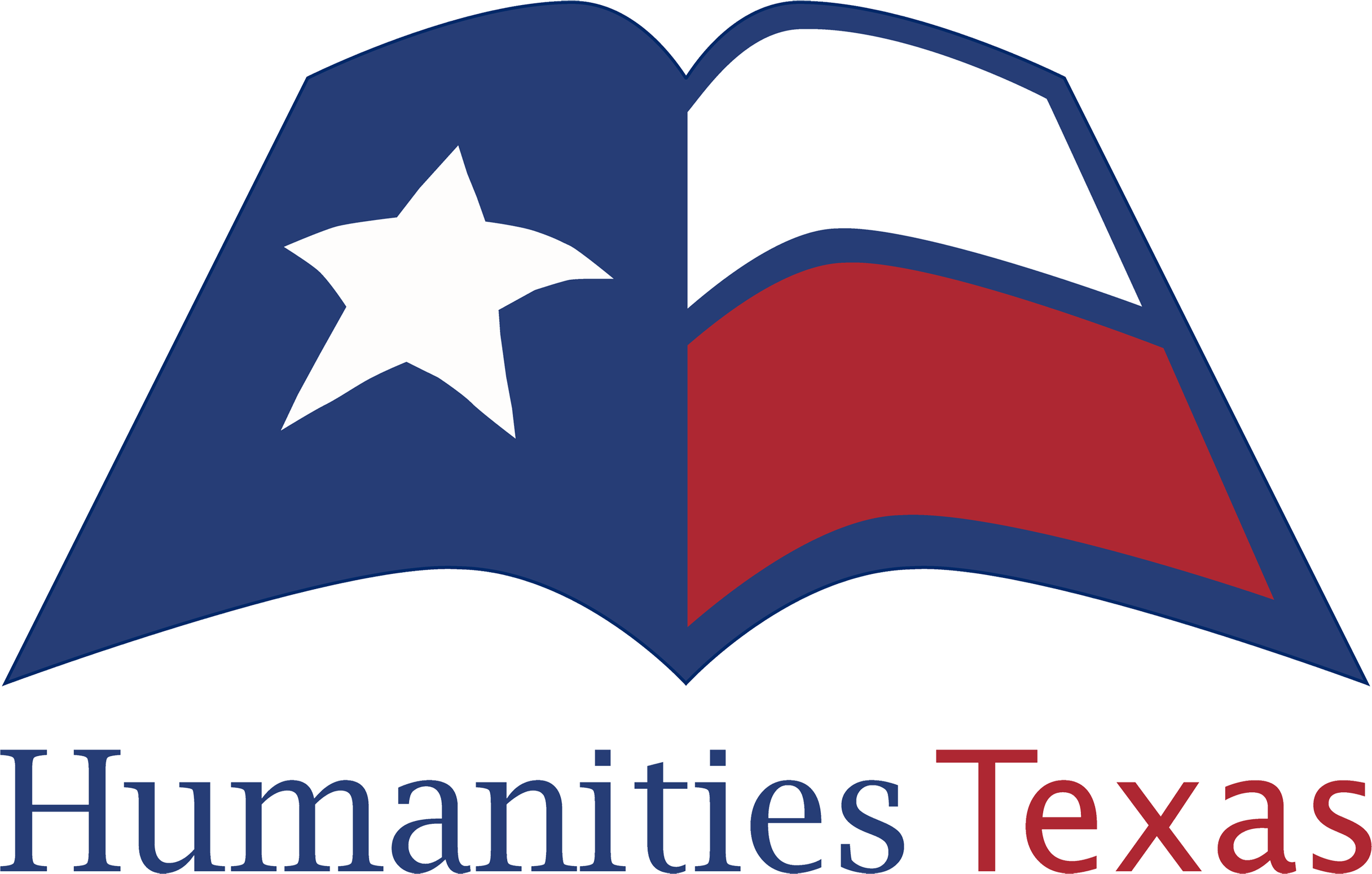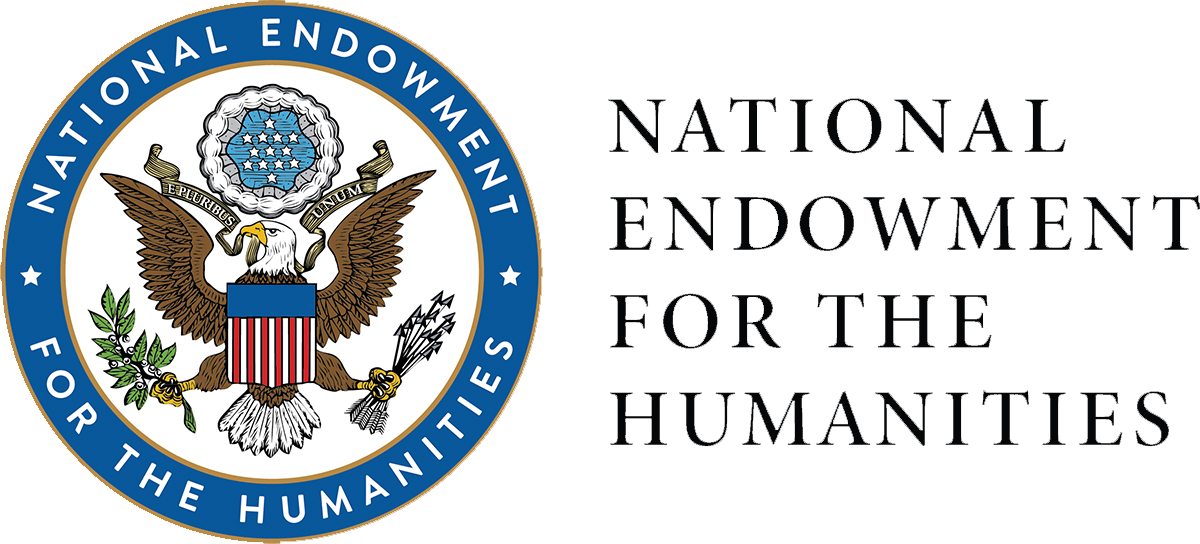 Disclaimer: "Any views, findings, conclusions, or recommendations expressed in this exhibition and Web resource do not necessarily represent those of the National Endowment for the Humanities."