Group Visits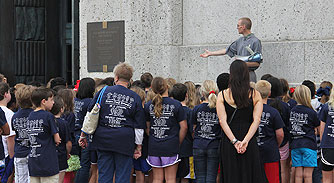 The terrace of the monument is the perfect place to launch your group's day of fun and learning. Church outing? Girl Scouts? Athletic club? Reading Group? Fraternity or Sorority? If you're planning a group event in the Houston area, San Jacinto is for you.
From the world's tallest monument tower to the guns of the Battleship Texas to the coastal prairie's natural beauty — the San Jacinto Museum of History promises something for everyone. And top off your day with dinner at a nearby restaurant!
Check out general visitor information and tips for daytrips before you come. Group discounts are available for all activities, and admission to the park is free. If you need help facilitating your group function, contact us and a staff member will help.
How Much Time is Required for a Typical Museum Tour?
For groups visiting the Monument, the typical visit including all venues, from arrival-leaving the park, lasts 1:30 to 1:45. This does not include a visit to the Battleship TEXAS. Please call Dawnell Vanderbrink at 281.479.2421 if you have specific questions about time committments based on your specific tour requirements.
Client entertainment? Sales meeting? Team building?
Think outside of the bar! The San Jacinto Museum of History provides the perfect environment for building relationships between people and groups, fostering organizational teamwork, and feeding your corporate culture something positive and interesting.
While the nearby Battleground at Deer Park golf course and the Monument Inn restaurant provide outstanding traditional client entertainment, a visit to San Jacinto Museum of History and the Battleship Texas educates, questions and inspires its visitors.
Make your next meeting an event to remember — at the San Jacinto Museum of History.
We offer discounts for groups merely passing through. Special benefits are granted to Corporate Sponsors. If you'd like help planning your visit, a San Jacinto Museum of History staff member will help to facilitate your meeting. Start the planning process today by filling out this simple form.
Are you interested in injecting some real color and context to your history class? Wanting to ignite the curiosity of young minds? Or are you just looking for a fun getaway for the kids? Whatever your purposes, the San Jacinto Museum of History is a fascinating and fun destination for your students. If they're not careful, they just might leave with a little knowledge.
We have week-long summer day camps that cover every aspect of this historic site. And educational opportunities abound. We even have a curriculum guide to help teachers plan.
Given enough time in a day, your students can experience what life was like on the Battleship Texas. As well as get a feel for what the Texan and Mexican soldiers were experiencing before, during and after the most critical 18 minutes in Texas history. There are self-tours and guided tours that are sure to intrigue and inspire. Plus, nature programs that expose the students to the indigenous wildlife and the dynamic ecosystems that exist on the grounds.
Whether you taking advantage of our educational programs or are simply bringing the students out for an afternoon, the San Jacinto Museum of History never disappoints. Please take a moment to fill out our group visit form and we'll help you start planning right away.