For Teachers
Teaching grade-school history? Graduate-level military studies? Local culture? Ethnic history? Engineering? Design? We've got 1,000 acres of landmarks, landscapes and learning that will bring insight and inspiration to your lessons.
Grass Roots Education
Why take your class to the San Jacinto Museum of History? Because it provides the perfect environment for your students to:
Get excited about history
Examine their lives more objectively
See artifacts from the past
Research very specific historical topics
Learn from the knowledgeable staff
Appreciate the region's historical significance
Learn more about their own heritage
Enjoy the outdoors
Blur the destructive boundary between fun and learning
---
Curriculum Guide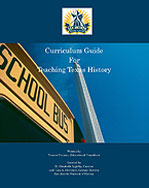 The San Jacinto Museum of History is proud to offer this Teacher's Curriculum Guide to help make your visit to the battleground a more meaningful educational experience. With the aid of this guide, you can teach students to:
Identify significant people, places, events, and ideas that contributed to the events of the Battle of San Jacinto
Analyze cause-and-effect relationships with regard to events that took place in the fight for Texas's freedom
Recognize the role of Mexican Texans in the victory at San Jacinto
And much more!
Review a full listing of the curriculum's objectives and materials by
downloading the Curriculum Guide (PDF, 3.9MB)
Curriculum materials for the exhibit Big Energy are also available.
The activities have been developed to best support students in grades 4-8 and meet the TEKs to further student understanding of the energy that powers our world and the part they play in making the future.
The Teacher Guide Tab contains background information and activities teachers may utilize in their classrooms to reinforce the concepts in the curriculum.
The Student Guide Tab contains the written backgrounders, and student worksheets your students will need to complete each activity.
---