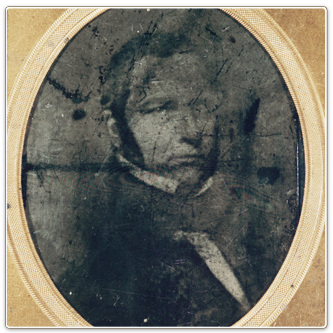 THOMAS RUSK
"This brave band achieved a victory as glorious as any on the records of history, and the happy consequences will be felt in Texas by succeeding generations. It has saved the country from the yoke of bondage; and all who mingled in it are entitled to … the heartfelt gratitude of every lover of liberty."

— Letter to David G. Burnet, dated April 22, 1836
---
Thomas Jefferson Rusk

(1803–
1857)
Helped lead Texian forces at the Battle of San Jacinto
Born in Pendleton District, South Carolina, Rusk was the son of an Irish stonemason. After a clerkship, he studied law, passing the bar in 1825. In 1827, he married the daughter of General John Cleveland. Soon, he would become Cleveland's business partner as well as his son-in-law.
Rusk invested heavily in mining, and when the manager from one of his mining interests fled to Texas with all the company's money, Rusk gave chase. His pursuit landed him in Nacogdoches, Texas. And though he lost his money, he found his new home. He immediately secured a land grant and sent for his family.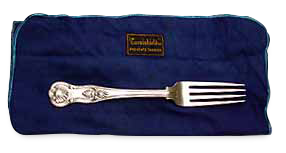 This opulent fork belonged to the Rusk family.
Texas is that kind of place. And Rusk was soon swept up in its winds of revolution. He helped organize area volunteers, participated in the resistance to concede the "Come and Take It" cannon at Gonzales, signed the Texas Declaration of Independence and was appointed Secretary of War.
When the Alamo fell, General Santa Anna turned his attention toward capturing the fledgling Texian government and putting its leaders to the sword as pirates. But Rusk, with help from the new nation's president David G. Burnet, made sure the government did not fall into Mexican hands.
Rusk and Burnet moved the government from New Washington to Harrisburg. As Mexican forces marched east in chase, Rusk remained a loyal and enthusiastic supporter of Sam Houston, who was receiving mounting criticism for the Texians' continual eastward retreat.
By the time Santa Anna reached Harrisburg, the government had moved again, and Rusk was rallying volunteers along the Texas coast. After the Goliad massacre, President Burnet sent Rusk to deliver orders to General Houston to attack the Mexican army.
On the battlefield at San Jacinto, Rusk was a good fighter, proving the merit of his many appointments in the Texas military. And he was thorough. When the Mexican army was forced to accept defeat and retreat back across the Rio Grande, Rusk followed them all the way — just to be sure.
Rusk went on to serve Texas military and political affairs with great distinction. He supported the annexation of Texas into the United States in 1845 and eventually became a U.S. Senator. In 1856, his wife — mother of seven children — passed away. Greatly grieved by this loss, Rusk would join her a year later.
To learn more about Thomas Rusk, look him up in our Veteran Biographies section.
To learn more about the key events of the Texas War of Independence, check out our interactive timeline.
---