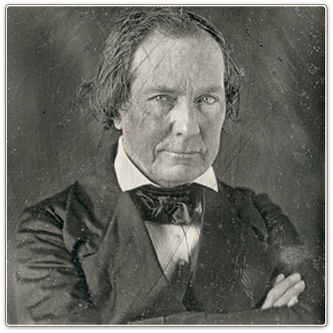 MIRABEAU LAMAR
"Dear Brother, I leave this in the morning for the army; a dreadful Battle is to be fought in three or four days on the Brazos, decisive of the fate of Texas; I shall of course have to be in it."

— Letter to J. J. Lamar
April 10, 1836
---
Mirabeau Buonaparte Lamar
(1798–1859)
Commander, Texian Cavalry at San Jacinto; second President of Texas
Lamar was born in Louisville, Georgia, the son of a plantation owner. An enthusiastic student, he received a broad, liberal education in academics and the arts revealing an advanced talent for writing. He was secretary to the governor of Georgia in 1823, and by 1828 founded a newspaper.
| | |
| --- | --- |
| | |
| | |
| | |
| Lamar, one-time President of Texas, was also a published poet and lover of the arts. | |
| | |
He was elected to the Georgia Senate in 1829, and was up for reelection when his wife died. He traveled and composed poetry for some time until launching two unsuccessful runs at Congress. In 1835, he traveled to Texas with James Fannin in order to collect historical data on the region.
Shortly after his arrival in Texas, he began supporting the Texian cause. He contributed poetry to the Brazoria newspaper. Like so many others with Texas in their blood, he soon settled all his affairs in Georgia and dedicated himself to the fight for Texas independence.
Lamar joined the army as a private at Groce's Point in April before the Battle of San Jacinto. Prior to the major engagement, a minor scrape took place in which Lamar's fighting skill became apparent. Just before the big battle, Lamar was promoted to colonel and given command of the cavalry. He retired from military life shortly after the war.
But his political career was just beginning. He traveled and promoted the new Republic of Texas, returning to the position of Vice President. His stewardship of the liberal arts endured, as he started a philosophical society, and soon anti-Houston supporters paved the way for his presidency.
Lamar succeeded Sam Houston as the second president of Texas in 1838. He didn't share Houston's visions of an American Texas, nor his Indian sympathies. Texas, in his estimation, should be truly independent. And he promoted culture and prosperity as keys to this independence. He was also a great proponent of the Texas Navy.
He did not serve a second term. Instead, he again traveled, and pursued literary interests with great success. He was awarded a courtesy seat in the U.S. Senate and joined Zachary Taylor's army in the U.S.-Mexican War. And he was appointed U.S. minister to Nicaragua and Costa Rica.
He died of a heart attack in 1859.
Learn more about Lamar in our Veteran Biographies section. To learn more about the key events of the Texas War of Independence, check out our interactive timeline.
---