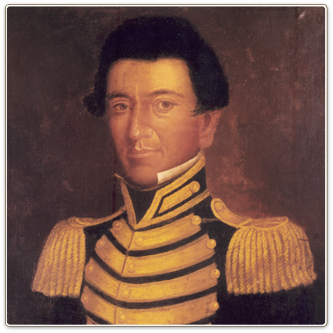 JUAN SEGUÍN
"At noon, General Rusk came to partake of dinner in my tent... he asked me if the Mexicans were not in the habit of taking a siesta at that hour. I answered in the affirmative adding, moreover, that in such cases they kept their main and advanced guards under arms with a line of sentinels. General Rusk observed that... the moment seemed to him favorable to attack the enemy. He added: 'Do you feel like fighting?' I answered that I was always ready and willing to fight, upon which the general rose, saying: 'Well, let us go! '"


— Juan Seguín, from his edited memoirs, in A Revolution Remembered
---
Juan Nepomuceno Seguín
(1806-1890)
Led Tejano fighters against the Mexican army
Juan Seguín was born in San Antonio, and married the daughter of one of the area's wealthiest ranching families. He held a variety of regional political positions until becoming involved in the military, supporting the Federalist government in 1835.
He led a militia company to Monclova in the Mexican state of Coahuila, which had become the official capital of Texas in 1833 after fighting between Centralist and Federalist forces had broken out. By the fall of 1835, he was performing non-combat operations for the revolutionary army.
When revolutionary forces placed General Cos under siege at San Antonio de Béxar, Juan Seguín was more than willing to participate. He was a valued Alamo defender, but when Santa Anna arrived to seal the Alamo's fate, Seguín was on a dangerous courier assignment.
Seguín was a strong supporter of the federalist principles which Santa Anna betrayed. A man more of action than words, he organized a company of Tejano soldiers that would play an invaluable role in the Texian cause. Seguín's Tejano unit fought bravely at the Battle of San Jacinto, and followed the defeated Centralists to the Rio Grande, ensuring their departure.
A thoughtful and literate man, Seguín kept careful memoirs of the events at San Jacinto. In the Personal Memoirs of John N. Seguín, he recalled the gallantry and passion with which his unit fought. Indeed, the service of Tejano troops was indispensable throughout the revolution.
Seguín served his country in a number of political roles including Congressman and Senator, and as the Mayor of San Antonio (two consecutive terms). Caught in escalating tensions between Mexican and Anglo Texans, he was eventually incriminated in a Mexican plot to re-take San Antonio.
He fled his beloved homeland for Mexico where he tried to build a new life for his family. During the Mexican War, he was forced by the Mexican government to take up arms against the United States. He returned to Texas as soon as possible, where he continued his political service.
Seguín died in Nuevo Laredo in 1890. His remains were returned to Texas in 1974, and buried at Seguin, the town named in his honor.
To learn more about Seguín, look him up in our Veteran Biographies section. To learn more about the key events of the Texas War of Independence, check out our interactive timeline.
---