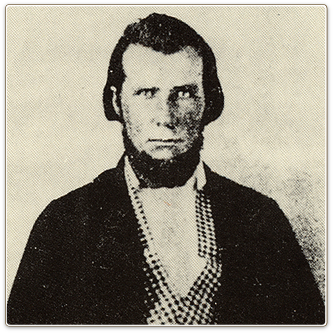 HENRY MILLARD
"…fear not for the fate of Texas we shall certainly prevent the enemy from crossing the Brazos …how soon we may have a general engagement I know not but probably in a day or two when I am confident we shall give a good account of them…"

— Letter to J. B. Huling
April 7, 1836
---
Henry Millard
(1796?–1844)
Led two companies of regular infantry and a battalion of volunteers at San Jacinto
A relative of both President Millard Fillmore and author Nathaniel Hawthorne, Henry Millard was born in Stillwater, New York. In the 1820s, he moved to Natchez, Mississippi, to marry the daughter of a successful businessman (Mary Beaumont).
He went into business with his brother-in-law until Mary's death in 1834. Millard moved to Texas a year later, where he opened a few stores and eventually became a land speculator. When revolution came, he eventually took up arms in the revolutionary army as a lieutenant colonel.
Millard's initial duty was that of a recruiting officer. He joined Houston's army during the trying days of the Runaway Scrape, and remained in its service until the Battle of San Jacinto. During the battle, he led two companies of regular infantry and a battalion of volunteers.
His men overran the Mexican breastwork, and played a significant role in the defeat of the Mexican army. In appreciation for his loyal and effective service to the young nation of Texas, General Houston awarded Millard with a pair of General Santa Anna's dueling pistols.
After independence was won, Millard fell out of political favor with David G. Burnet, Texas' acting president at the time. This would end his military career. He returned to the town he'd named after his late wife, Beaumont, to pursue a variety of civil positions.
Eventually, he moved to Galveston, engaging in new business opportunities and serving as the city's tax assessor. He died of natural causes in late August of 1844. The pistols awarded to him by Houston now reside in the Republic of Texas Museum in Austin, Texas.
To learn more about Millard, look him up in our Veteran Biographies section. To learn more about the key events of the Texas War of Independence, check out our interactive timeline.
---