Support Us
It's easy to become a true Texas Hero! Preserve and promote our state's and our nation's heritage by contributing to the San Jacinto Museum of History Association.
Become
A Member
Join the ranks of those who have defended Texas culture though the decades — and earn your just rewards.
Donate
Keep the Lone Star shining bright — atop the monument and in the hearts of Texans everywhere.
Corporate
Sponsorship
Do business with the outfit that brought you Texas' first corporate takeover — it'll pay tremendous dividends.
Fundraisers
Every year, Texans walk, run, shine and sip to raise funds for the care and upkeep of one of Texas' greatest treasures.
San Jacinto Day 2019: Call for Volunteers and Vendors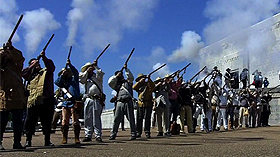 You can enjoy all the fun and excitement of the San Jacinto Day Festival in person by donating your services, your wares or your time. The next celebration will be held on Saturday, April 13th, 2019, so save the date and watch this space to find out more.