It's more than day camp. It's history.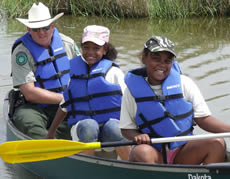 We don't mean to brag. But the San Jacinto Monument Habitats & History Day Camp has what no other day camp — no other summer camp of any kind — has what we offer.
Habitats & History provides a wonderfully unique and interactive opportunity for your child to connect with our state's proud history and vibrant environment. There is no better way to understand history than to engage with it — from simulating battle stations aboard the Battleship Texas to roaming the grounds where Sam Houston's volunteers wonTexas' independence. Plus, your child will join in a ton of real-experience-is-way-more-exciting-than-video-game activities. Like birding and biking. Fishing and canoeing. Even some healthy team competition at the end of the week.
It's Texas-sized fun. For just $27 a day.
Help your kids connect with their Texas roots, learn a little about the world around them and have lots of fun in the process. Join the fun and sign up today.
Open to all kids going into grades 3 through 7, it's day camp for a week. That means camp runs from 8:30 AM. to 3:30 PM, Monday through Friday. You can drop off your young camper as early as 7:30 AM, and aftercare is available until 5 PM. You will need to provide your child with a sack lunch each day. We'll keep them refrigerated until lunchtime.
We have five weekly camp sessions available beginning the week of June 10. We do not have one the week of July 4th.
To register, please call 281-479-2431, extension 234.
Here's the week at a glance:
Monday: Battle stations!
You're a sailor aboard the Battleship Texas, sending messages in Morse code and manning a 40mm anti-aircraft gun.
Tuesday: The World Outside
We'll head outdoors for some real outdoor fun. Campers will participate in archery, canoeing and fishing.
Wednesday: Taking Texas
This isn't just a tour of the battleground. Experience what it was like to stand with Sam Houston's volunteers in 1836.
Thursday: Your Natural Neighbors
Explore the marsh and prairie through activities like birding and biking, water testing and a "Critter Catch."
Friday: Camp Olympics and Closing Ceremony
Compete in four team events, with a Gold Medal going to the Camp Champ! Afterward, a party to celebrate the historic week.
Camp Dates
June 10-14
June 17-21
June 24-28
July 8-12
July 15-19
Daily Schedule
8:30 AM to 3:30 PM
Campers welcome as early as 7:30 a.m.
Aftercare available until 5 p.m.
Registration fee
$135 per camper (VISA/MC/Discover or check)
Five days. Just $27 per day.
Camp T-shirt
Lunch
You will need to provide your child a sack lunch each day. Lunches will be stored in a refrigerated space and delivered to your child at lunchtime.
To register please call 281-479-2431, x234.
< Back to News and Events