2014 San Jacinto Day Festival and Battle Reenactment
Save the date! The 2014 San Jacinto Day Festival and Battle Reenactment will take place on Saturday, April 26, 2014, from 10 a.m. to 6 p.m. Visit the Annual Reenactment page for pictures from prior years, check the parking map and the entertainment schedule below, and then plan to come to this full-day, exciting event.
Dan Barth will use his Medicine Show Wagon to tell the tales of special 19th century cure-all elixirs, and entertain with a little magic.
Nonstop entertainment on the main stage, including Brandon Mcdermott, Last Chance Forever: The Birds of Prey Conservancy, Mariachis Los Galleros, and K. R. Wood.
Children's Stage entertainers include Abitail Taylor, Phydeaux's Flying Flea Circus and Wahoo Medicine Show.
See non-venomous indigenous snakes of Texas, and learn how they provide balance in nature.
Watch blacksmiths, weavers, spinners, and other demonstrators show their craft.
Visit the Mexican and Texian camps and learn from reenactors about the lives of soldiers in 1836.
Texas Parks & Wildlife staff will offer archery classes for young people.
Vendors will be on hand with festival food, hand-crafted wares, and history-related items.
Children's crafts will be led by teachers from Deer Park ISD and student volunteers from San Jacinto College; a Sandbox Dig will be created by San Jacinto College.
Marsha's Petting Zoo will bring sheep, goats, and other friendly small animals.
Learn about Texas history from the San Jacinto Descendants, Daughters of the Republic of Texas, Sons of the Republic of Texas, the Texas General Land Office, and the Texas Independence Trail Region.
Enjoy the sounds of the North Harris County Dulcimer Society.
Tips to enjoy the 2014 festival:
Avoid the ferry from I-10, as only one boat is working and the wait is long.
Bring lawn chairs or blankets for comfortable viewing of the reenactment.
Discounted lodging of $109 per night is available on April 25 and 26 at Hampton Inn Deer Park, 281.930-9091.
Park at the first available parking lot and ride the shuttle to the festival grounds; buses will stop at the farthest parking lots first.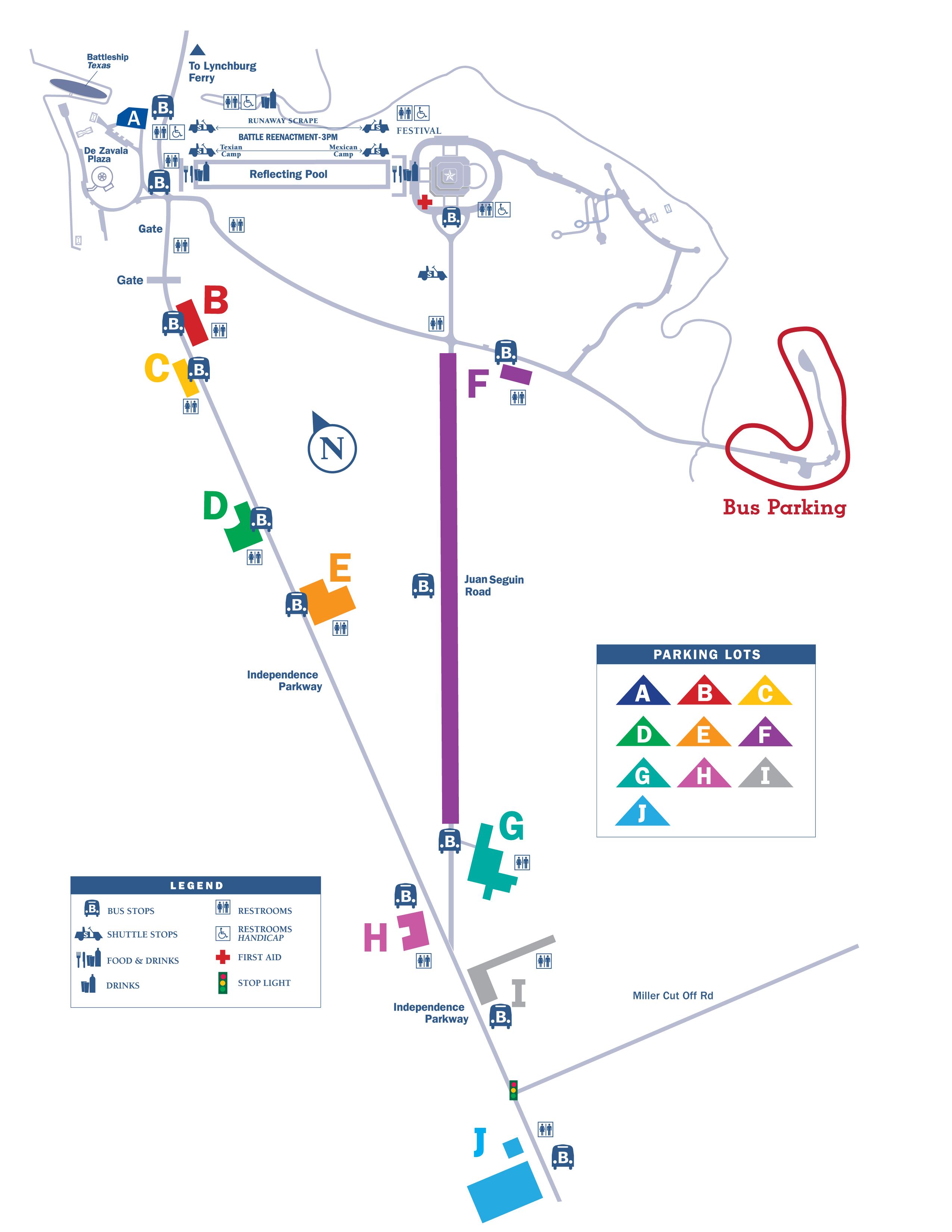 Find out more about the day in the press release.
Entertainment
Main Stage:
Children's Area Stage:
Other Entertainment:
| | | |
| --- | --- | --- |
| Time | Entertainer | Location |
| 10:00 - 6:00 | Marsha's Petting Zoo | Monument Circle |
| 10:00 - 6:00 | Chuck Wagon of Texas History - K.R. Wood | Monument Circle |
| 10:00 - 6:00 | Train Ride | Monument Circle |
| 10:00 - 5:00 | George Esparza - Phydeaux's Flying Flea Circus | Monument Circle |
| 10:00 - 6:00 | Dan Barth and his Old Time Medicine Show Wagon | Monument Circle |
| 10:00 - 6:00 | Texas Independence Dancers | Monument Terrace |
| 10:00 - 3:00 | Texas Snakes | Monument Circle |
| 10:00 - 6:00 | Make & Take Arts & Crafts / Deer Park ISD Teachers | Monument Circle |
| 11:00 - 3:00 | North Harris County Dulcimer Society | Near Reflecting Pool |
| 11:00 - 11:30 | The Texas Army Fife Corp | Monument Circle |
| 1:00 - 1:30 | The Texas Army Fife Corp | Monument Circle |
Thanks to the sponsors of this event:
H-E-B
The Dow Chemical Company
Vopak
Pasadena Strawberry Festival
CenterPoint Energy
LyondellBasell
And to the coordinators and volunteers: Texas Parks & Wildlife Department, San Jacinto College, Deer Park ISD, Clean Harbors, KHOU, La Porte EMS, and Hampton Inn Deer Park
< Back to News and Events