Life on the frontier - Butter Making
March 4, 2023 11:00 a.m. to 3:00 p.m.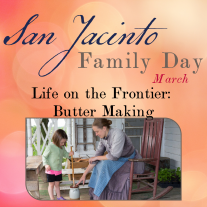 On an active cattle ranch like the McCormick's at San Jacinto, the family would have churned butter a couple of times a week. Once the cows were milked, the milk was left to settle so the cream could rise to the top. The cream was then skimmed off and added to a churn, where the constant motion produced butter by separating the yellow fat from the buttermilk.
At the March San Jacinto Family Day program, try your hand at churning butter using both a dash churn and a shake jar. You'll even get to take your butter home with you! Suitable for kids aged 5 and up; younger children are welcome but will need to have an adult to help. This activity is free with purchase of an adult ticket to the San Jacinto Museum. On San Jacinto Family Day, kids are are admitted for free when accompanied by a parent or grandparent who purchases a ticket.
< Back to News and Events