Battleground Van Tours
May 13, 2023. 12:45, 1:45, and 2:45 p.m.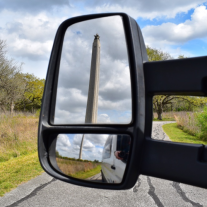 Do you know where General Santa Anna set up his camp during the Battle of San Jacinto or where General Houston was shot? How about where the Surrender Tree was located? Discover the San Jacinto Battleground like you've never seen it before on a staff-led van tour of the battlefield. Tours start shortly after the conclusion of Texas Forever!! The Battle of San Jacinto in the theatre. The tour is free with admission to the San Jacinto Museum, on a first-come basis. Space is limited by the size of the 14 passenger van.
These tours will repeat on May 27, June 17, June 18, July 9, July 22, August 20, and August 26, 2023.
< Back to News and Events