SAN JACINTO DAY FESTIVAL AND BATTLE REENACTMENTs
Saturday, April 18, 2020
10 am – 5 pm
The San Jacinto Day Festival takes place each April and has seven to ten thousand attending. Many of those festival-goers are from outside the Houston area and surrounding states. In an effort to contain the spread of COVID-19 this event has been cancelled. Rescheduling of the event has not been determined at this time. Vendors are advised to contact the event coordination team for more information.
View our online exhibit Return to the Battlefield, a look at the Battle of San Jacinto through favorite photos from past reenactments of the Battle.
Festival Admission is Free
$10 Parking Pass per vehicle required – purchase at Eventbrite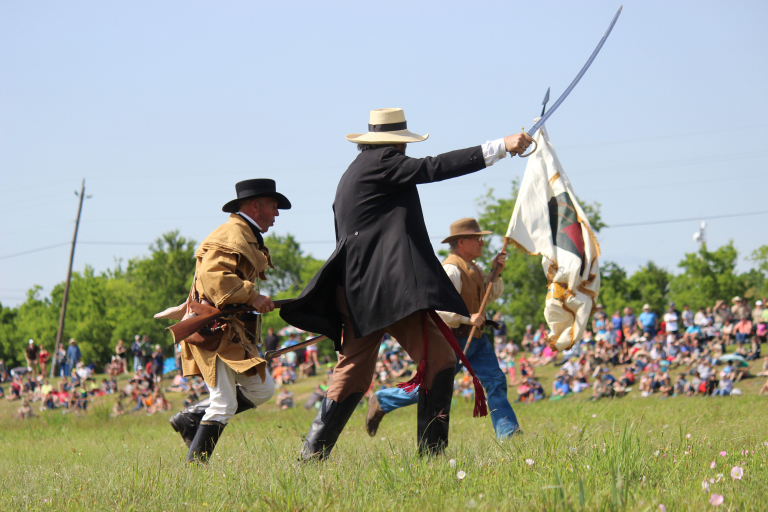 Join thousands of proud Texans celebrating victory at San Jacinto and Texas Independence. This is a family-friendly Texas-size festival with music, games, demonstrations, food trucks and lots of history. Volunteers dressed in the period of the Texas Revolution make the events of April 1836 come alive.
A "Timeline of the Texas Revolution", starting at the monument, facilitates a chronological progression of the San Jacinto Story. The major Texas Revolution events will be represented through demonstrations and representatives from Gonzalez, the Alamo, San Felipe de Austin, Goliad, and Washington-on-the-Brazos, culminating in the Battle of San Jacinto and capture of General Santa Anna.
The living history demonstration area along the north side of the San Jacinto Monument and Reflection Pool, will be the focus of the reenactments on Saturday, April 18, staffed by reenactors in period costume, with support personnel in modern clothes. The demonstrations create an immersive experience utilizing all the senses. Planned demonstrations and participatory activities allow visitors/students to interact directly with the past. Reenactors engaging in demonstrations and routine activities (cooking food, checking weapons, etc.) create a more immersive sensory experience, engaging with visitors' sense of sight, smell and sound and allows visitor interaction with reenactors on their own terms.
In addition to the ongoing living history demonstrations taking place, five distinct reenactments portraying specific events during the San Jacinto campaign will take place on Saturday. Each reenactment is an act in the San Jacinto Saga. Act 1, The Texas Navy; Act 2, the Runaway Scrape; Act 3, the skirmish of April 20th; Act 4, the Battle of San Jacinto and of course Act 5 the surrender of the Mexican Army and the capture of Santa Anna. These reenactments will focus interpretation on the San Jacinto Campaign and will serve to continually draw people back to the living history encampment.
Festival goers are encouraged to visit the museum inside the monument. There are modest fees for the elevator ride, movie and special exhibit. Donations are always appreciated.
Parking locations will be along Independence Parkway. Disabled parking nearby with shuttles to the event entrance.
Please note, the festival will take place rain or shine. No parking fee refunds.
< Back to News and Events