Texas Historic commission assists San Jacinto Museum of History to Save Artifacts after severe winter storms
La Porte, Texas - March 11, 2021 After severe cold caused water pipes to burst at the San Jacinto Museum of History, staff quickly partnered with the Texas Historical Commission to save irreplaceable historic artifacts from permanent damage and remove them from harm's way.
"Through the quick and efficient work of volunteers 99 percent of the items affected by water have been dried," said David Avila, Interim Director of the San Jacinto Museum of History. Pipes burst on the second floor of the museum, sending torrents of water to a basement curatorial space where many artifacts from the collection were stored. Water flowed down the walls of the elevator lobby, and five paintings in the lobby were removed and placed for drying. Pumps were used to remove six inches of water from the basement.
Clyde Abernathy, the maintenance supervisor at San Jacinto Battleground State Historic Site, quickly discovered the situation and alerted site management. Bill Irwin, THC Director of Historic Sites Operations, coordinated with other state agencies to recruit staff to assist. Laura DeNormandie, THC's chief curator, coordinated with the Texas Collections Emergency Response Alliance (TX-CERA) for assistance and advice about the threatened objects. Lisa Struthers, Library Director of the Albert and Ethel Herzstein Library, and David Avila consulted with Cristiana Ginatta, a painting conservator on the TX-CERA board about mitigating the water damage to the paintings.
"We are thankful for the many colleagues and volunteers around the great state of Texas who came to our aid. The Texas Historical Commission put us in contact with experts and sent staff from TPWD and THC's state historic sites who were a tremendous help to museum staff," said Avila. "Our recovery process is still in the works."
Verlinde Hill Doubleday, board member of the San Jacinto Museum of History and chair of the collections committee for the San Jacinto Museum of History, assisted in relocating items such as water-soaked pre-Columbian pottery. Her grandfather, George A. Hill Jr., was a founder and first president of the Board of the San Jacinto Museum of History. His grandfather, James Monroe Hill, fought in the Battle of San Jacinto and was present at the surrender of Santa Anna. As an elderly veteran of the battle, he was appointed by the state as a commissioner to purchase the land where the battle had taken place.
"My grandfather had been collecting documents, print materials, and relics for over twenty-five years prior to the museum opening. His purpose in collecting seemed to have been designed for the creation of a museum at the battlefield that could contain a range of items. His personal collection was recognized as one of the finest in the world. He donated much of his collection to start the museum," said Doubleday. "We are so pleased that Texas Historic Commission and Texas Parks and Wildlife have sent such knowledgeable and enthusiastic experts and volunteers to help save this collection."
Steve Pine from the TX-CERA observed and advised the recovery efforts of volunteers assisting in the recovery of historic artifacts, with a special emphasis on the recovery of the international and Texas currency collection using a slow but careful process of removing each piece of currency from a polyester sleeve, blotting and laying them out to dry in acid-free paper and folders. Curators from several THC state historic sites assisted in documenting and rehousing artifacts. The artifacts were then moved for storage in a safe collection storage space.
"The quick and decisive actions on the part of our partners at THC and TPWD is evidence of a commitment to history and to the historic places around our state. The efforts of those who came to help us recover truly are appreciated by our staff and board and will allow generations of future Texans who otherwise might not have seen these artifacts to learn the true stories of sacrifice and deep patriotism," states Gideon Hixon, board chair of the San Jacinto Museum of History.
The San Jacinto Museum is currently closed but will re-open to the public in early April and will showcase a new exhibit with archeological artifacts that were recovered near Almonte's capture site. Please continue to check our website for a re-opening date.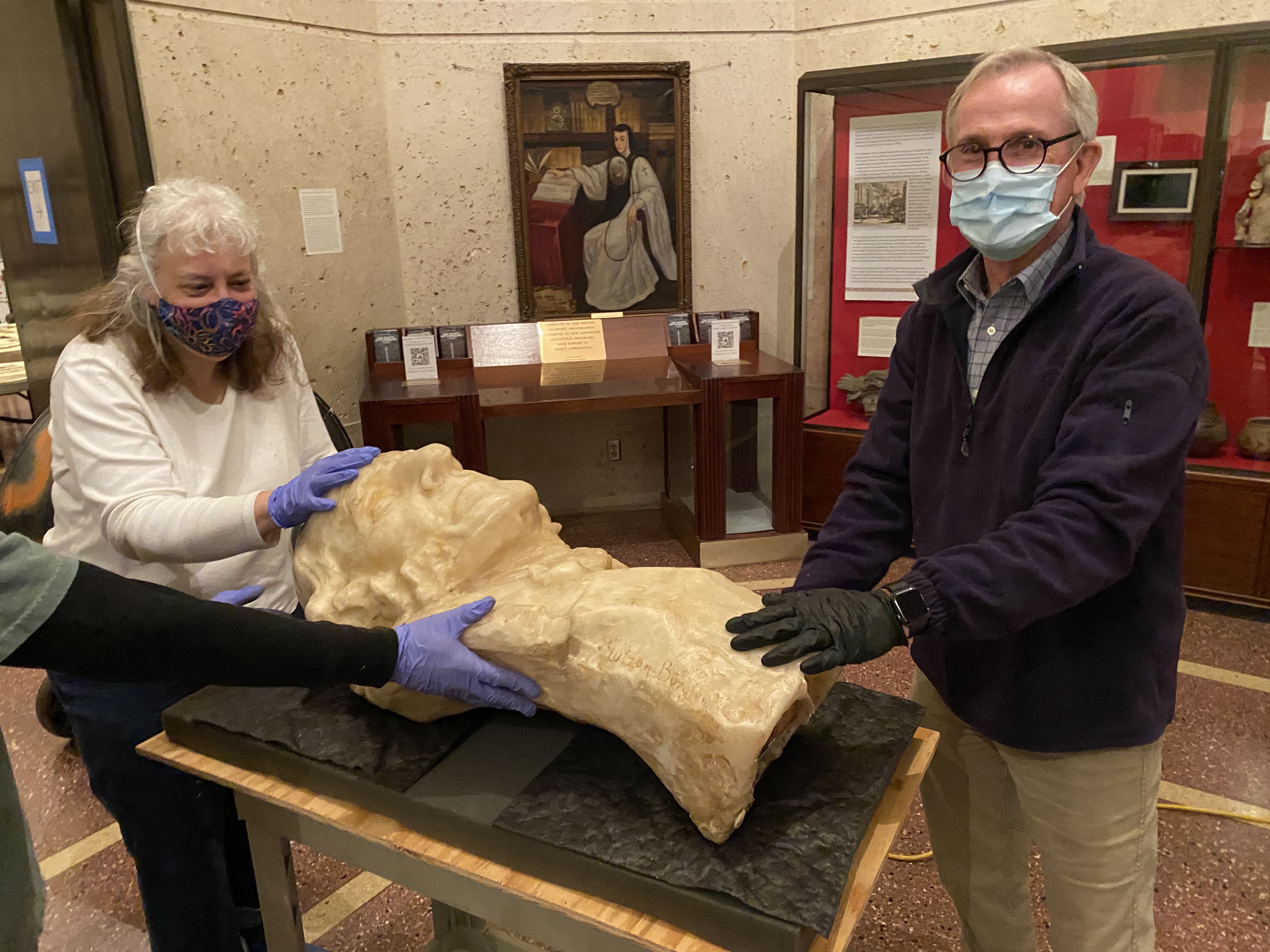 Left to Right: Lisa Struthers, Steve Pine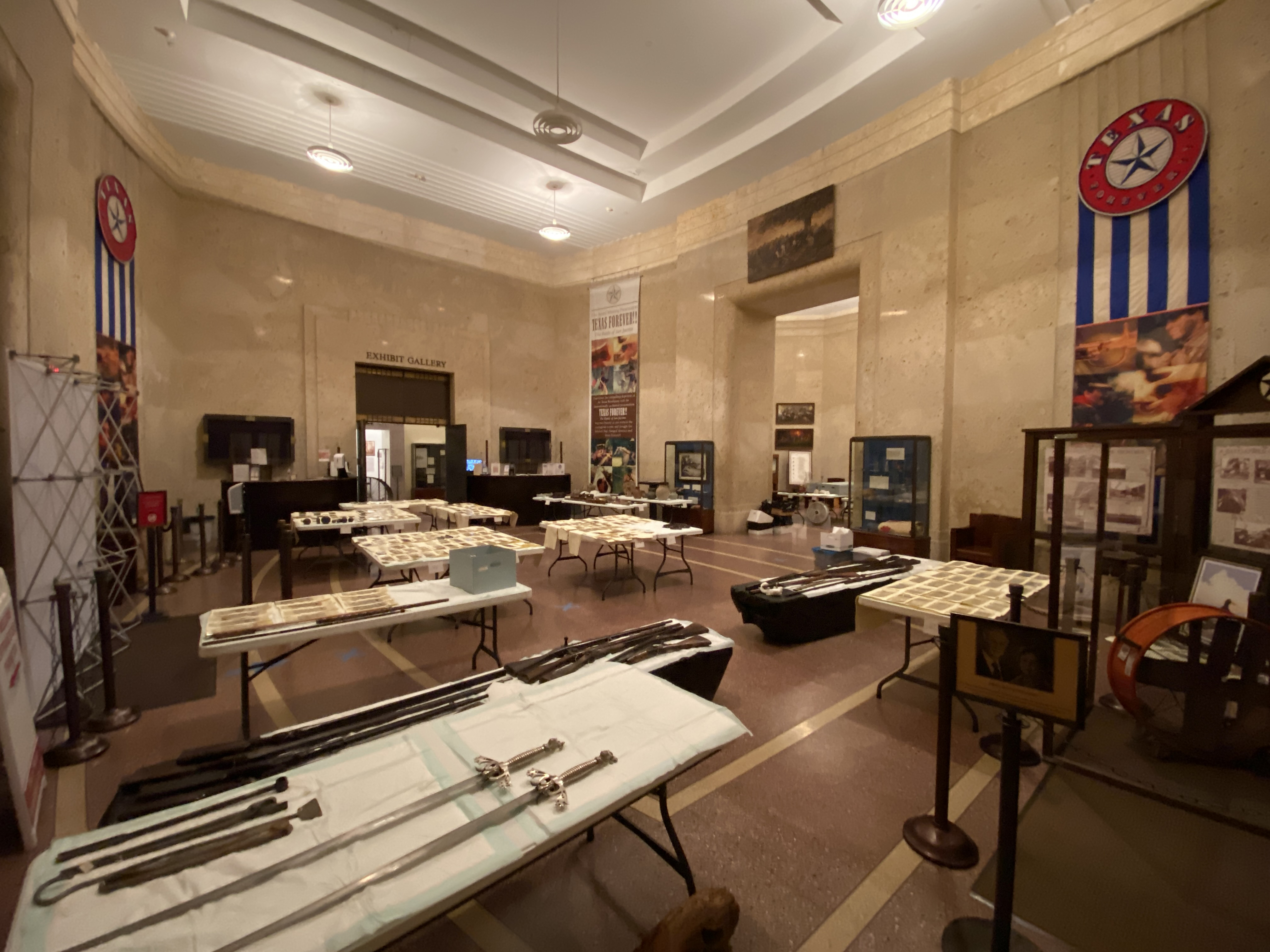 Inside the San Jacinto Museum of History recovery area.
About the San Jacinto Museum of History
The San Jacinto Museum of History was created as a steward of history, not only to honor those who fought at the San Jacinto Battlefield and Texas Revolution of 1835 – 1836, but to re-visualize the history of Texas and the Spanish Southwest. The museum is operated by the San Jacinto Museum of History Association – a non-profit organization and association. It is a 501(c)3 and receives no state or federal funds.
Currently closed. Please check our website for re-opening date early April.
Admission:
A flat rate of $12 for adults covers all museum venues
Children 11 and under are $6 for all museum venues
Masks are required for all visitors age 5 and up within the museum.
All visitors must wash or sanitize their hands as they begin their visit to the museum. They are encouraged to do so again before leaving. For convenience, sanitation stations are available throughout the museum. Visitors are encouraged to respect social distancing unless of the same household. Please follow the signage to the northwest door, located on the side facing the reflection pool, which will be our only entrance. The southeast door will be designated as the only exit door. Use of the elevator will be limited to two occupants or six who arrived together. A limit of 15 minutes will be recommended for the Observation Deck. The theatre is open with alternating rows closed to enforce social distancing. Retail operations will be open and will take advantage of zero-contact options for transactions when possible.
Your generous donations keep history alive. Consider a museum membership or donating at www.sanjacinto-museum.org/Support_Us/Donate/
Please check www.sanjacinto-museum.org for updates.
< Back to News and Events