For Parents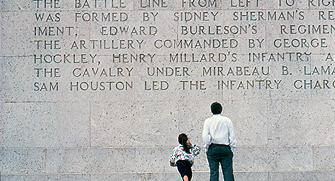 Whether you're coming from Houston or Heidelberg, the San Jacinto Museum of History is a great place to take kids of all ages.
Sights
There's something to do for everyone. From the sensory experience of walking around the Monument, to the Observation Deck, to the simple pleasure of spending a day outside — even your teenager will find something to appreciate.
Smarts
San Jacinto brings history to life. Let your kids view history outside the context of classrooms or words on a page. Kids can see, touch, hear and learn — all without the confines of grades or assignments. And you get a refresher course as well!
Scenery
Unplug your progeny just this once, and let the playground replace their PlayStation™. The park offers room for everything from hiking to biking to wildlife — you can see alligators, coyotes, falcons and more! Pack your kids, camera and picnic basket, and visit us soon.
Sleep
Want a quiet evening at home? Take your kids to San Jacinto during the day. Unleashing a couple of kids where there's this much to do, then filling them with dinner, makes for a quiet ride home — and evening at home.
Here are some tips to help your child's visit more enjoyable for everyone:
Watch your kids; this will keep them safe and the museum's rare items from being damaged
Remember to have your kids use sunscreen and drink plenty of liquids while playing in the park
The museum's large rooms amplify even subtle sounds. If you have babies that decide to voice a revolution of their own, please step outside